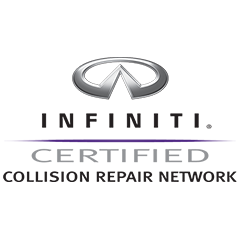 Serving our area for over 30 years, Accurate Auto Body is part of the INFINITI Collision Repair Network. Accidents are stressful enough, so our goal is to assist you through the repair process just like we would help one of our own family members. Our shop is inspected on a yearly basis to make sure we are using the correct equipment and latest training techniques to properly repair your INFINITI vehicle. We also encourage our customers to complete surveys after repairs are complete to further help us improve in our services. If you have questions about your INFINITI, please call our team at Accurate Auto Body!
INFINITI Exclusive Repair Protocols-As members of the INFINITI Collision Repair Network, we have access to the repair methods directly from the makers of INFINITI vehicles.

Authentic INFINITI Parts- We encourage the use of 100% genuine parts engineered by INFINITI to protect your safety and the performance of your vehicle.

Yearly Certification Visits- Every year, our facility has a site visit to analyze our methods, equipment, training programs and interactions with our customers.

Customer Satisfaction and Improvement Minded- Our valued customers receive a survey after the repair process which we take into consideration when improving our services.
Call us at Accurate Auto Body a call at 510-243-1414. Let our family take care of yours!
We are proud to serve:
Contra Costa County- Richmond, San Pablo, Pinole, Crockett, El Cerrito, Hercules and Berkley.