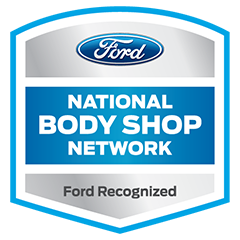 Accurate Auto Body in Richmond, CA is member of the Ford Certified Collision Network. Our technicians are factory trained to handle any small scratch to full-collision repair. To protect your warranty and safety, we encourage the use of 100% authentic Ford parts and our training is up-to-date with the latest engineering for your vehicle model. This certification through Ford is in addition to our already high-standard of service and commitment to great customer care!
If you have a 2015 or newer Ford F150 that has been in an accident, your truck needs special attention from the Ford Aluminum Certified technicians at Accurate Auto Body. Your Ford truck is engineered for optimum fuel performance and durability but is lighter than the traditional steel-bodied Ford F-150. Since the material is structurally different, Accurate Auto Body is factory trained to weld and repair aluminum. We want to help you maintain your warranty from the Ford Motor Company for as long as you own your F-150 which is why we recommend the use of authentic Ford parts in our repair process. Our technicians also have the tools and equipment they need to properly repair your Ford F-150 truck which is an investment in our business and our customers. We are proud to of our capability to serve our Ford customers!
Highly – Skilled and Factory Trained Technicians- Our team is I-CAR certified and trained specifically on all models of Ford and Lincoln cars, trucks and SUVs.
Lifetime Limited Warranty – Our quality work is backed by our limited lifetime warranty for as long as you own your vehicle.
Annual Inspections – Each year, we are inspected by Ford to ensure we are maintaining the standards set by the Ford Certified Network. We have invested in the tools and equipment meant to repair Ford vehicles and our technicians are well-versed on using these tools.
Quality Customer Service and Attention to Detail – We want you to sit back, relax and leave the stress to us about getting your vehicle repaired! We also encourage our customers to complete reviews of the overall repair process from your estimate, claims processing, repair process and end result!
For more information about the Ford Recognized Body Shop program, please visit http://collision.ford.com/auto-repairs
We are proud to serve:
Contra Costa County- Richmond, San Pablo, Pinole, Hercules, Crockett, El Cerrito and Berkley.
Come to Accurate Auto Body and we will treat you like one of the family! Give us a call at 510-243-1414 to schedule your estimate.